OFFICIAL INTERNATIONAL PROFESSIONAL MASTER'S DEGREE IN MANAGEMENT STRATEGY AND LEADERSHIP WITH PROGRESSION TO MBA
ADVANCE THE OBTAINING OF THE INDISPENSABLE QUALIFICATION FOR YOUR IMMEDIATE INCORPORATION IN THE ENTERPRISE MANAGEMENT, WITHOUT RESIGNING TO REACH THE MAXIMUM ACADEMIC UNIVERSITY LEVEL
The level 7 postgraduate diploma (Professional Master) in the International Official Framework of Regulated Qualifications (RQF) is the fastest, safest and most practical option (120 credits from the UCA/60 ECTS), for your incorporation into the management level.
Later and in different calls you will be able to obtain the MBA, making a dissertation online (60 credits of the UCA/30 ECTS) with London Graduate School (LGS). The Degree is validated by The University for Chichester.
YOUR "GATEWAY" TO WORK IN THE WORLD
Study, in a full-time academic year, with the Madrid Chamber of Commerce-IVT Campus and receive the most prestigious qualifications from the UK.
Official International Postgraduate Diploma level 7 is delivered by the Madrid Chamber of Commerce - IVT Campus and awarded by OTHM Qualification UK.
Students who successfully complete the course will have access to the M.B.A. granted by the University of Chichester in one term, using the "Online" mode, for the validation of the research project submitted to the London Graduate School.
Our references
90% of our students work in the Area at 6 months
The MBA, IS THE FINAL CULMINATION TO THE EXCLUSIVE INTERNATIONAL POSTGRADUATE PROGRAM "Level 7 Diploma in Strategic Management and Leadership"
It is carried out in a PRESENTIAL WAY DURING 2 QUARTERS, in a unique environment in the International Business Management as it is the Institute of Business Training Chamber of Commerce of Madrid.
Double - Official International Degree

Official International OTHM Level 7 Strategic Management and Leadership Diploma (120 credits-60 ECTS Credits) OTHM Qualification
BUSINESS TITLE CHAMBER OF COMMERCE OF MADRID

Triple official qualification, if in addition:

You agree to study the MBA with the London Graduate School and a degree from the University of Chichester (15 weeks)

Creation of a business project endorsed and promoted by the Business Training Institute of the Chamber of Madrid for the launch of a business
Alumni Intranet with Professional Networking
Organisation of the Madrid Chamber of Commerce Job Fair and presentation of your project
Attendance at all the presentations of the Postgraduate Area in the Madrid Chamber of Commerce
Invitation as an associate member to all conferences, forums and professional meetings of the Madrid Chamber of Commerce
Fees. 7000,00 €
If you access the Top Up MBA
London Graduate School fee 3,800 pounds
This postgraduate program consists of 4 compulsory units:
Strategic Management (20 credits)
Strategic leadership (20 credits)
Strategic management of human resources (20 credits)
Advanced methods of business research (20 credits)
And two optional units to choose from:
Strategic financial management (20 credits)
Supply Chain Management and Operations (20 credits)
Business initiative and innovation (20 credits)
Globalization and corporate governance (20 credits)
Strategic change management (20 credits)
Strategic marketing (20 credits)
REPORT OF THE CONSULTING PROJECT for the obtaining of the MBA Degree granted by the prestigious University of Chichester verified and audited by the London Graduate School.
The MBA (top-up) consists of a single mandatory module "Consultancy Project Report" of 60 credits.
This project offers the opportunity to examine a particular area of interest within an appropriate organizational context. The module is designed to make an important contribution to your professional and intellectual development, enabling you to demonstrate your capacity for sustained independent thinking, learning and critical reflection.
To carry out this phase, it is necessary to have successfully completed the Level 7 Strategic Management and Leadership Diploma (120 credits) and to complete in one term, its development in exclusively "On Line" modality, at the London Graduate School.
This project can be carried out in the calls of June 2021, September 2021, or January or 2022.
The goal of this program is to provide company leaders, not only with the technical knowledge but also with the competences and skills that relate to the integration of human capital in a organisation.
10 reasons for success.
It is given in the Chamber of Commerce, which is the oldest Spanish organization and the most recognized in the business world
Double/triple degree.
- International labour certification - Madrid Chamber of Commerce
- Business Certification – OTHM Qualification
- University of Chichester MBA
International Business Recognition (network of chambers of commerce in the world)
Specialized qualification in an area of competence demanded by 90% of the Companies
In 80% of the companies of formation and development of the Human Capital, they are considered an integral part of their policies and strategies.
First level professional contacts that will accompany you during your career
International Job Bank
Title taken in English and internationally accredited
Consulting in the creation of companies and entrepreneurship.
Membership of the Exclusive Chamber of Commerce Club
The CHAMBERS OF COMMERCE are very important learning intitutions, both on national and international level. There are CHAMBERS OF COMMERCE in more than 160 countries, such as E.E.U.U., United Kingdom, France, Germany, Japon, China or Australia.
(MDK Investigación de Mercados 2011)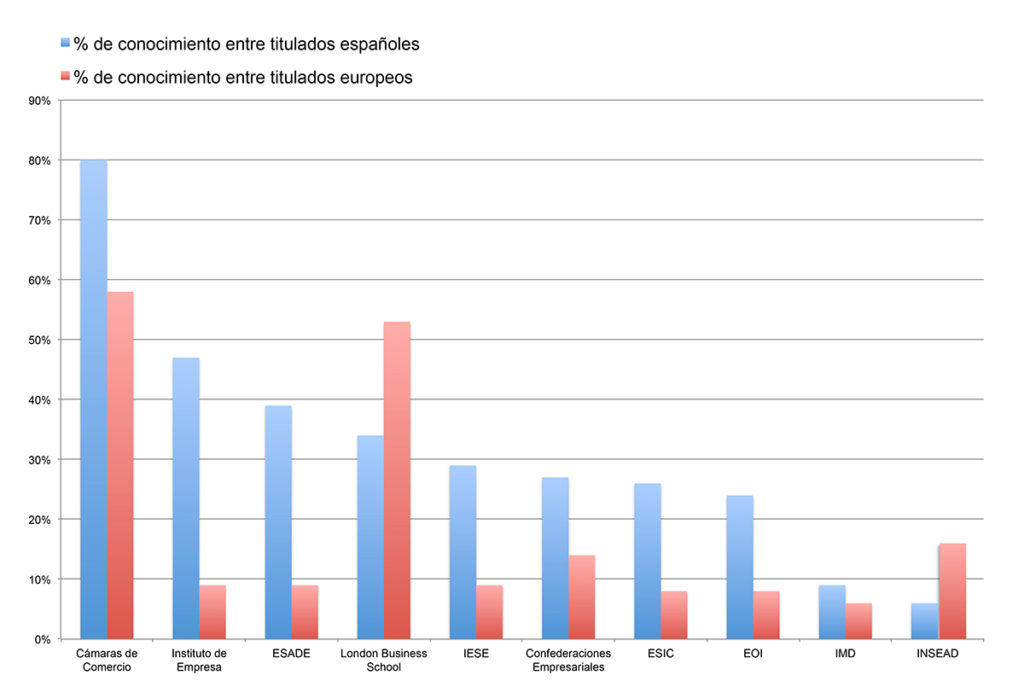 The CHAMBER OF COMMERCE OF MADRID belongs to the eurochamber`s group with 45 europeans CHAMBERS OF COMMERCE.
The CHAMBERS OF COMMERCE are also Public Entities, because they are entitled to teach about business matters and they are pioneers on this area.
Speaking about the CHAMBER OF MADRID, its teaching staff has a wide professional experience in well-known entreprises, such Endesa, Iberdrola, Telefónica, Sacyr, Vodafone or Inditex, and they usually public news and articles in economical and generalist newspapers..
University degree or equivalent qualification for academic purposes
Interview in English or IELTS recognized levels of 6.0 bands or equivalent accreditation, like Cambridge English Certificate, ToEFL, National School of Languages or others.
If a certification in English is not available, we will interview the applicant in English
Duration. 500 hours (October to July)
Title: Official International Degree in Regulated Qualifications (RQF) Level 7 (Master)
Official Title of the Chamber of Commerce, Industry and Services of Madrid
Internships: National and International
Job Market: National and International
Mode: Presential from Monday to Thursday from 10:00 14.00
120 UCA CREDITS / 60 ECTS
Place: Instituto de Formación Empresarial de la Cámara de Comercio de Madrid C. /Pedro salinas 11 (Arturo Soria)
After completion of RQF Level 7 postgraduate diploma in Strategic Management and Leadership at Chambre of Comerce -Campus FP IVT, the award is issued by OTHM UK, a professional awarding body accredited by OfQual, the regulator of qualifications and awards in the UK. Based on this qualification, a holder qualifies to study the top-up programme delivered by London Graduate School consist of a Research Project. After successful completion of this project the candidate receives a Master in Business Administration (MBA) Degree, which is validated by University of Chichester UK.